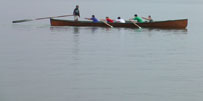 Kawhia Harbour Regatta
The Kawhia Regatta, one of the harbours biggest days, is on January lst, where every new years day, Kawhia's most intriguing craft, the kauri built racing whaleboats, compete with crews from around the harbour communities.
The racing whaleboats are 11 metre's long, five-oared and slender and quick. Five were built in the Auckland area in the early 1880s and raced on Waitemata Harbour in a regatta that marked the 50th anniversary of the Treaty of Waitangi.
They came to Kawhia in 1910 and four of them still survive. One is on display in the waterfront museum, and three still compete, alongside beautifully crafted modern replicas, in the annual new year regattas organised by the Kawhia Rowing Regatta Club and the Te Waitere Boat Club.
More information and images are coming soon...Please bookmark
Naumai Haere mai ki Kawhia Moana