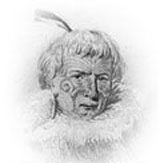 Kawhia History
Kawhia history is as exciting and romantic as any great novel could describe. From the time of the arrival
of the Great waka Tainui over 750 years ago and the arrival of the Europeans, just over 150 years ago.
Since the arrival of the Maori, Kawhia harbour has been the witness to a multitude of drama's and changes.
Wars, battles, tragedies and passionate romance are etched in time and imprinted on the psyche and wild landscapes of Kawhia.
It is not possible to recall such ancient history, but I will place links to strories to get maybe an inkling of some of it's unique past.
Please search the following links:

Giant Kawhia Penguin fossils discovered

Old Flour Mills of Kawhia

The arrival of the Tainui waka

Te Rauparaha: Warrior Chief of the Ngati toa tribe of the Kawhia district.

Wesleyan Mission in Kawhia/Aotea

Kawhia Maori History
Kawhia's History in its Street Names
The centreal area of Kawhia comprises the original 40 to 50 acres town block that the Government bought in 1880 - not from the original Maori owners, but from a European who claimed ownership in payment of money owed by another European.
You can read the history of Kawhia in its street names.
The main street is Jervois Street, named for Sir William Jervois, appointed Governor of NZ in 1882, when he visited Kawhia. He was very popular among the colonists. Jervois was born on the Isle of Wight and died in a horse carriage accident in 1897.
From Jervois Street runs Tainui Street, named for the Tainui waka, the ocean-going canoe that brought the ancestors of the Tainui people to Kawhia in the 14th century. Tainui means "big tide".
Travelling up Tainui Street you pass Charleton Street, named for John Charleton, one of the early European settlers who claimed ownership of this Kawhia township block.

Next comes Fairchild Street, named after John Fairchild who was famous for two things. He was master of the "Hinemoa" which was used to set up the Kawhia Harbour beacons in 1883. And he claimed the Kawhia town block from John Charleton Junior, in settlement of a debt. The Government eventually bought the block, in 1880, from either Fairchild or the Charleton estate.
Next is Cowell Street, named after yet another "John" - John Cowell, a flax and firearms trader who originally claimed the Kawhia town block after paying two Kawhia chiefs for it. He paid them in powder, muskets, blankets, clothing, tobacco, pipes and tools. Cowell sold the block to Charleton, to settle a debt, for around $100 in today's money.
On the northern side of the town block is Pouewe Street. This was the original name of the Maori settlement in this area, Pouewe township, and the Pouewe Stream. The name refers to a significant landmark. It is often wrongly spelled "powewe" which means a dog yelping at night.
Kawhia Timeline
950
Kupe visits Kawhia in "Matahorua"
1350
Hoturoa brings "Tainui" to Kawhia
1768
Te Rauparaha born near Lake Parangi
1770
James Cook passes Kawhia in "Endeavour, names Albatross Point and Gannet Island
1825
Capt Amos Kent visits Kawhia for cargo of flax, later opens first trading post in Kawhia
1834
Rev William Woon first resident missionary
1844
First Auckland-Wellington overland mail service includes Kawhia
1863
Waikato land wars begin, European settlement restricted in Kawhia as part of King Country
1870

Sir George Grey visits Kawhia on "Eclipse" - first steamship here

1876
Kawhia becomes a county
1880
Government buys 40 acres to survey as Kawhia township
1883
Armed Constabulary arrive to supervise harbour reopening after end of land wars
1884
61 Kawhia town sections auctioned in Auckland
1895
Kawhia Native School opens
1900
Coach service starts from Pirongia to Oparau
1901
Kawhia Wharf opens, Northern Steamship Co service starts from Auckland
1904
Congregational Church opens in Pouewe St
1905
Kawhia County Council formed
1908
Courthouse opens, Tainui Street
1910
Five racing whaleboats purchased for harbour competition
1912
Bank of NZ opens, Jervois Street
1914
Kawhia telephone exchange opens with 27 subscribers
1920
First aircraft visits Kawhia
1927
Kawhia Golf Course opened
1930
St Peter's Church, Kawhia, opened by Bishop Liston
1934
King Koroki lays foundation stone for Methodist Church
1947
Electric power turned on in Kawhia
1956
Kawhia County Council merges with Otorohanga District Council
1957
Kawhia Volunteer Fire Brigade formed
1959
New state highway to Kawhia opened
1967
New Kawhia Wharf opened
1973
$100,000 town water supply scheme approved
1985
Kawhia included in Te Awamutu free-calling zone
1990
Kawhia Regional Museum Gallery opens in old County Council building
Maxine Andrew lands first marlin weighed in Kawhia
1997
Owners buy Crown share in Tainui-Kawhia forest for $9 million, contract first cutting rights to Rayonier
1998
Kawhia Pontoon launched
2003
The heritage vessel, The Lady Kawhia, previously The Marie 2, an ex-blue boat ferry from Auckland, arrives in Kawhia to start heritage cruises.