Kawhia Harbour Visitor Information
Naumai Haere mai ki Kawhia Moana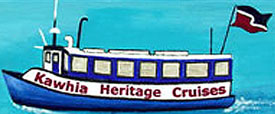 Kawhia, with it's small population of approx. 650 residents, charming 1960's appeal and unspoilt harbour, is one of the most beautiful regions in New Zealand.
Steeped in ancient history, this historic eco-wonderland is the spiritual and ancestral home of the Maori tribe, Tainui. Cultural heritage seekers world wide are slowly discovering this rare eco-gem where you can still walk for miles on an isolated ocean beach without seeing another footprint in the sand.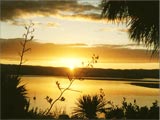 This coastal paradise is true country living, down-to-earth, practical and laid-back. You know you're in heartland rural New Zealand when youngsters saunter through the streets riding bareback on a horse, or diving and leaping off the wharf into the inviting waters below.
And that's exactly the kind of scene common to Kawhia - Tainui territory.
Kawhia is part of the King Country which was named after the movement that King Tawhiao led last century to resist alienation of Maori land.
After the movement's failure, he and his followers sought refuge in these remoter parts of the region and for a time thereafter "Pakeha" ventured into Kawhia and other parts of King Country at their own peril.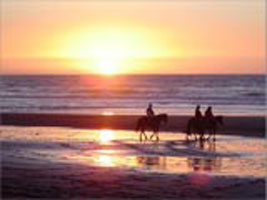 Accommodation is varied and very reasonably priced, from camping grounds, homestay and backpackers to a neat & tidy motel and hotel.
There are some excellent outdoor activities, which include: heritage cruises, horsetrekking, kayaking, natural hotpools and drive-your-own 4 wheeler motorbikes.
So whether it's the sheer tranquility, or the magnificient scenery, you and the kids will be well stimulated and occupied. "Kawhia by the sea" as it's aptly described, will grow on you quickly and impress it's tranquil memory in your mind, so plan ahead and plan to stay at least a few days to experience the best of what New Zealand can offer in the fascinating King Country.