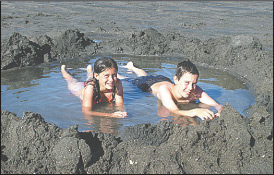 Kawhia Ocean Beach Natural Hotpools
Kawhia's natural hotpools are an absolute must, while visiting the region. The Te Puia hot pools that bubble up out of the sand onto the ocean-beach are Kawhia's best kept secret, but more and more visitors are discovering this rejuvenating hotsprings eco-gem.
DIRECTIONS:
On reaching Kawhia, ask for directions to the ocean beach road. The locals are friendly and will only be too keen to help. Drive to the very end, about 4 kilometre's to a carpark.
You will see toilets situated their also. Walk over a sand dune and down to the ocean beach. Almost straight down you will discover the hotpools.
Remember the natural hot springs don't get exposed till approx. 2 hours before low tide. So before that you may not see any evidence of the hotpools.
Enjoy a swim in the surf first, then after a dip in the ocean, get digging your own hotpool. If you can, bring your own shovel or spade to dig with.
It will save energy, otherwise, all hands on deck to dig a big one. You can usually test the temperature with your toes, which varies upon location.
Feel around for the hot spots by digging your toes into the sand. You can smell the sulpher when the hot pools get exposed, or see the steam rising from the sand, usually about 2 hours before low tide.
After your hot pools, there are many other activities to enjoy your stay while in Kawhia...You can try horsetrekking at Aotea beach, or go for a cruise on the harbour, or why not just head down to the Kawhia wharf for another swim, then tuck into the famous "Kawhia fish n chips"....
Either option, you are bound to enjoy your time in "Kawhia by the sea".
Visitor Reviews:
Beautiful big black sand beach,definitly worth the trip,the ocean even seems a little warmer to..just like hot water beach but without all the tourist buses,20 mins before the springs you'll hit oparau roadhouse (big yellow building)where you can grab a shovel,good eats,internet,gas, and great people, bill the owner will let you park for the night ,there are tolets and free coffee in the morning!! Cheers

brian kelly - haiku,maui,hi    
Rating: 10/10   17th December 2008


Well worth the trip, take an extra few minutes to find the hotter pools you need it especially on a cold windy winter day! We stumbled accross an unsuspecting tourist couple who obviously thought they had the beach to themselves, they were quick to dress and jump on their quad bike! Thanks for locating the hot water for us! Visit the bar on the main street (not the tavern) for friendly hospitality a warm fire, coffee and pizza to warm up after the mad dash back up the sand dunes!

Jeremy - Hamilton NZ    
Rating: 8/10   2nd October 2006